Lead Generation Marketing: 100 Strategies, Ideas and Examples Part 5
61. Free Evaluation
Like a free tool, a free evaluation is a super valuable lead magnet (so long as the results of that evaluation are gated).
Many companies have made an evaluation part of their sales funnel. Not only do they get your email address, but they get any and all information you submitted with that evaluation – which makes this lead generation strategy yield some of the best information of all.
Here's an example from Quicksprout, where they ask for your company website in order to evaluate (with Google Analytics API) the health of your content marketing strategy: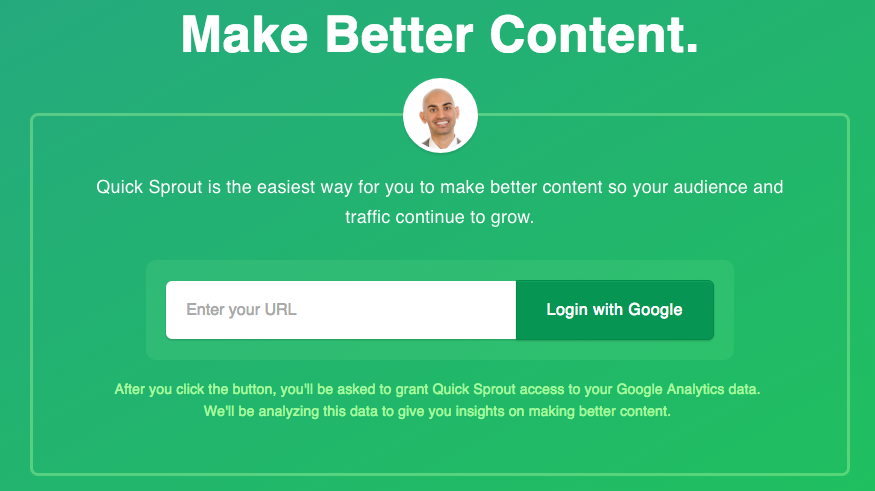 To learn more about creating a free evaluation, check out DigitalMarketer's article "9 Lead Magnet Ideas and Examples."
62. Coupon
Giving away a coupon is a great strategy for two reasons. Firstly it gives you a target email list of people you know are interested in your specific product. And secondly, it's a great tool that can be used to drive sales.
Here's an example of a simple e commerce coupon that offers $25 off a user's first order.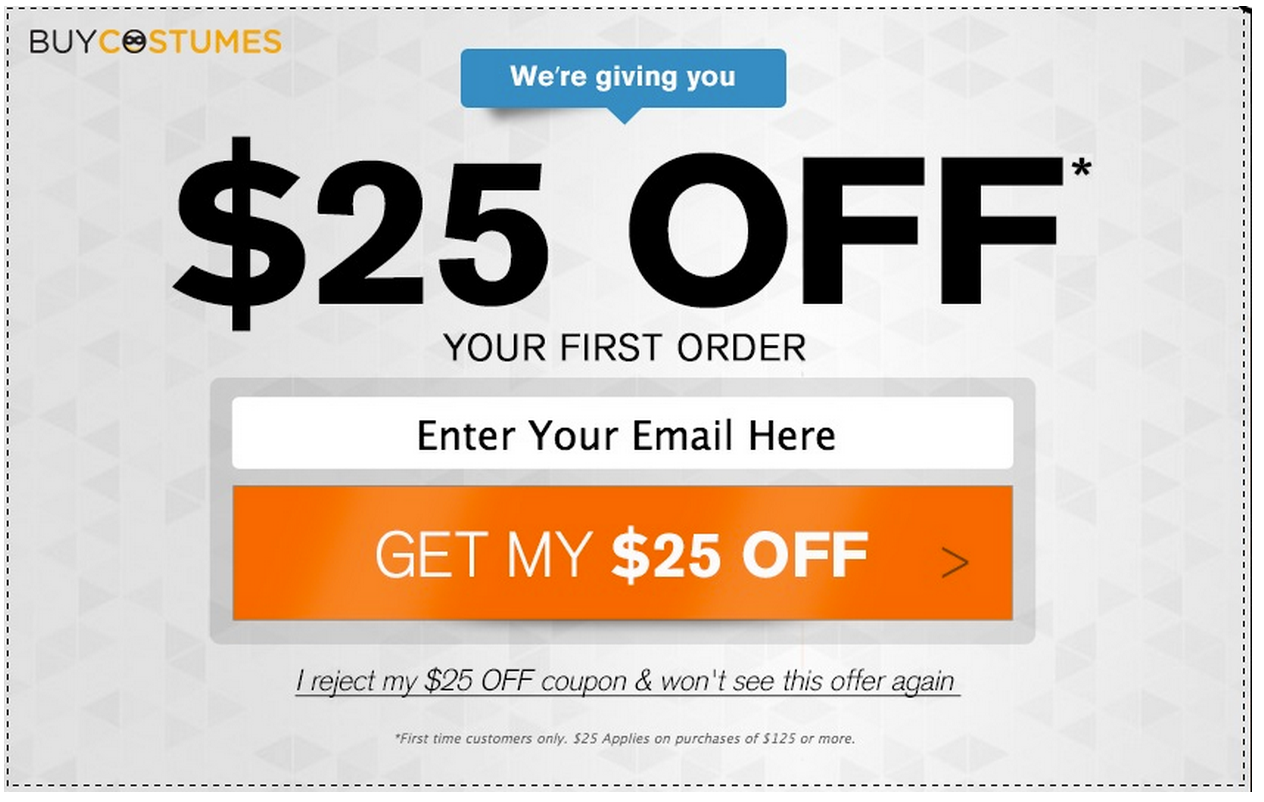 To learn more about using coupons as a lead generation strategy, check out "9 Lead Magnet Ideas People Actually Want."
63. PAS Formula
P.A.S stands for "Problem + Agitate + Solution"
PAS is powerful because problems can attract even more attention than benefits. People want to avoid pain more than they want pleasure.
It works like this: describe the problem you know your target market is experiencing. Agitate that problem by highlighting emotions associated with it, and then offer your solution.
For example:
Isn't it frustrating to pour money into PPC and Facebook Ads and the creation of content, only to have meager results?
You're tired of too-few leads, low conversion to sales, and high churn. It seems like no matter what new strategy you implement or how big your budget gets (which you can't afford), you can't turn that corner into positive ROI.
I've been there. Three years ago I was in the exact same boat.
But I kept at it, and, to save you the time, expense and frustration of making all the mistakes I did, I compiled the most important 10 strategies I used to grow my business to where it is today – a seven-figure consultancy I run from my office in downtown Manhattan.
Get my Top 10 Strategies (for a limited time) Free by clicking <here>.
To learn more, check out EnchantingMarketing's "Why Most Copywriting Formulas Stink (and How to Really Write for the Web"
64. Use The 'So What?' Formula
Remember the "Five Whys" formula for determining the deep needs of your prospective customers?
The "So What?" formula ensures you're marketing to those prospective customers in a way which resonates with them.
Essentially, the "So What?" formula is about identifying the benefits of your lead magnet instead of the features of your lead magnet.
For example (taken from Henneke Duistermaat's article linked below:

Checking each of your website's lead magnets, free trials and VIP demo page headlines with this question will help your messaging resonate with your prospective users.
To learn more, check out EnchantingMarketing's A Simple Trick to Turn Features Into Benefits (and Seduce Readers to Buy!)
65. BGNGo Bullets Formulas
This is an interesting concept, and definitely worth testing.
It's about the order of your benefit lists. Joanna Weibe (the queen of copywriting), recommends you structure them like this:
Best
Good
Necessary
Good, with Outcome
Her primary recommendation here is to "bookend" your benefit lists with the two most appealing and valuable points, and to stuff the not-so-sexy points in between.
To learn more, check out CopyBlogger's "The Ultimate Guide to No-Pain Copywriting."
66. The Problem Benefit
But life isn't always sunshine and roses. If you present it as so (in your lead magnet or product page's benefit list) your visitor won't respond as well as they could.
To keep their attention, introduce a problem to avoid.
Henneke uses an example of a bike:
"These disc brakes won't slip when they get muddy."
"The bike has 24 gears, so you don't have to worry about struggling uphill."
"The saddle is comfy, so you won't get a sore butt after cycling 20 or 30 miles."
But it works just as well for a lead magnet:
Stop wasting money on PPC campaigns with optimized landing pages
Stop worrying about free trial churn with these email marketing templates
Stop wasting time on social media by learning how to track your Facebook ROI
To learn more, check out EnchantingMarketing's A Simple Trick to Turn Features Into Benefits (and Seduce Readers to Buy!)
67. Don't try to be too clever
Marketers can (and should) spend a huge amount of time honing the best possible headline for their content and lead magnets.
It's important. It's what attracts the eye of your visitor and, ultimately, gets them to click.
But you can run the risk of thinking too hard about this.
I've seen some incredibly complex landing page headlines in my day, and all they do is confuse the visitor.
Wait, am I downloading your customer intelligence ebook or dressing up as a superhero…?

To learn more, check out Kissmetrics' "9 Awesome Examples of Copywriting Headlines (That You Can Steal!)"
68. Make your Offers Snackable
A recent eye-tracking study showed that most page visitors have time to read at most 28% of the words during an average visit; 20% is more likely
Your site and page visitors are busy. They need to see information, value and the most important parts of your offer immediately.
That's why I recommend benefit lists so strongly. It's why I recommend bolded text and short (even single-line) paragraphs.
People don't want to be overwhelmed with dense content, they want to be able to skim and snack.
Here's an example from Wishpond's Complete Guide to Instagram: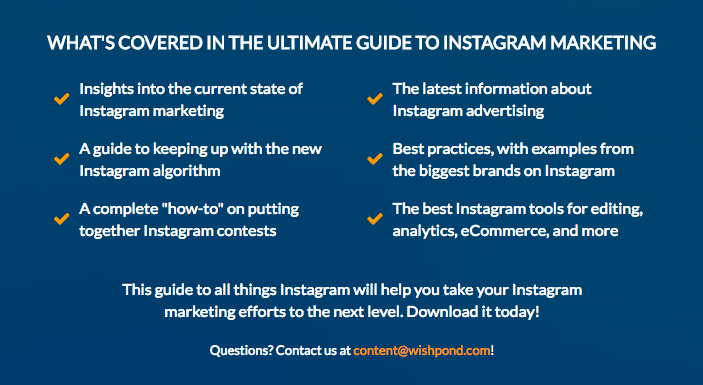 To learn more, check out Henneke's 'Snackable Writing" Course in the header of her blog: How to Nurture Empathy for Your Readers (and Craft Messages That Resonate)
69. Caption your Images
When I first started guest blogging for Social Media Examiner, I was asked to provide the captions for each of my article's images. At the time, I wondered why. Who reads these?
It turns out, image captions are read 300% more than body copy.
Who knew?
In light of that revelation, it seems a no-brainer to caption your videos with, if not a value proposition, at least something like "[Previous User] Talks About How Much They Love [Your Company]"

To learn more, check out "How to Support your Copy with Images" on CopyHackers by Nichole Elizabeth DeMeré
70. Use an Image of a Smiling Person
In 2003 Harvard worked with a South African bank to send out 50,000 letters offering short term loans to eligible recipients.
They varied the interest rate as well as included psychologically-influential cues. It turned out that having a picture of a smiling female picture in a corner of the letter had an equally positive effect on the response rate as did dropping the interest rate by four percentage points.
People like faces. They grab our eye better than almost anything else, and we like it when they're smiling.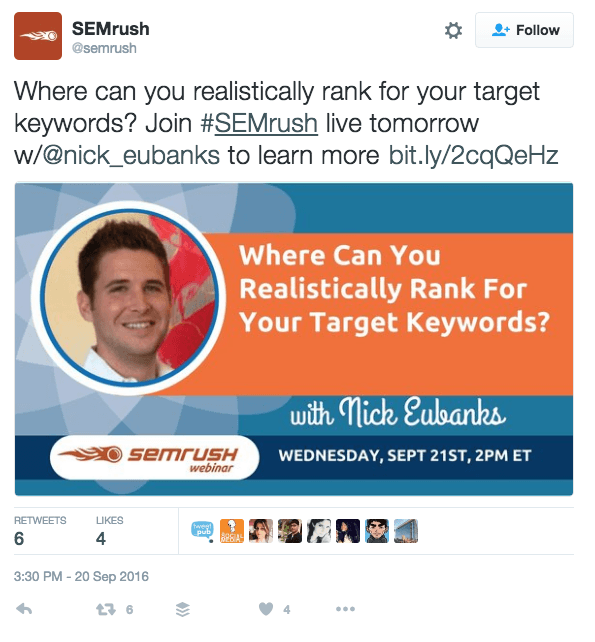 To learn more, check out "The Psychology Behind a Successful Facebook Ad Part 2: Images" which covers a lot of the power of images in site optimization and lead generation.
71. Emotion Converts Better than Rationality
An analysis of IPA (Institute of Practitioners in Advertising) data compared the "profitability boost of campaigns which relied primarily on emotional appeal vs. those which used rational persuasion and information. […]
Campaigns with purely emotional content performed about twice as well (31% vs. 16%) than only rational content."
A few of the top emotionally-charged words:
Confidential
Confessions
Insider
Revolutionary
Sensational
Deadline
Reduced
Ordeal
Dreadful
Effective
First ever
Astounded
Responsible
To learn more, check out "Emotional Ads Work Best" from neuroscientist and blogger Roger Dooley. For a comprehensive list of emotionally charged words, check out "380 High Emotion Words Guaranteed to Make You More Persuasive" from the Persuasion Revolution.
72. Hyperbolic Discounting Bias
Focus your lead generation content on "quick wins" unless they're obviously long-term strategies.
The reason for this is because of something called "hyperbolic discounting bias," which is (in the words of CRO expert Jeremy Smith)…
"The tendency for people to have a stronger preference for more immediate payoffs relative to later payoffs. Hyperbolic discounting leads to choices that are inconsistent over time – people make choices today that their future selves would prefer not to have made, despite using the same reasoning." – Jeremy Smith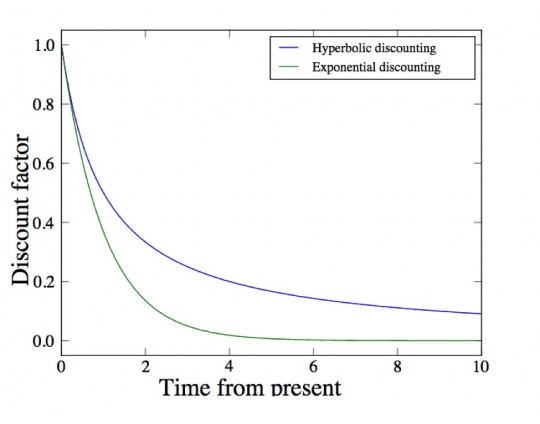 To learn more, check out Jeremy Smith's massively valuable resource "67 Ways to Increase Conversion with Cognitive Biases" on the Neuroscientist blog.
73. Branded Merchandise
You might be surprised at how well merchandise giveaways work to generate leads and increase brand awareness and memory.
Branded merch' (umbrellas, t-shirts, mugs, even pens) – provided it's of a high enough quality and attractive enough to actually use – increases the spread of your brand in the world. It's an excellent way for people, who may not even have finished their free trial, to keep your brand in mind. Every time they wear your T-shirt to bed or the gym. Every time someone asks them where their umbrella came from they remember your business.
And, as far as lead generation goes, everybody likes free stuff. Just remember to put some time into brainstorming the right kind of merchandise to appeal to your target market and also be used for a long time.
For SaaS businesses, external hard drives or phone chargers are a good call.
Here's an example from InfusionApp.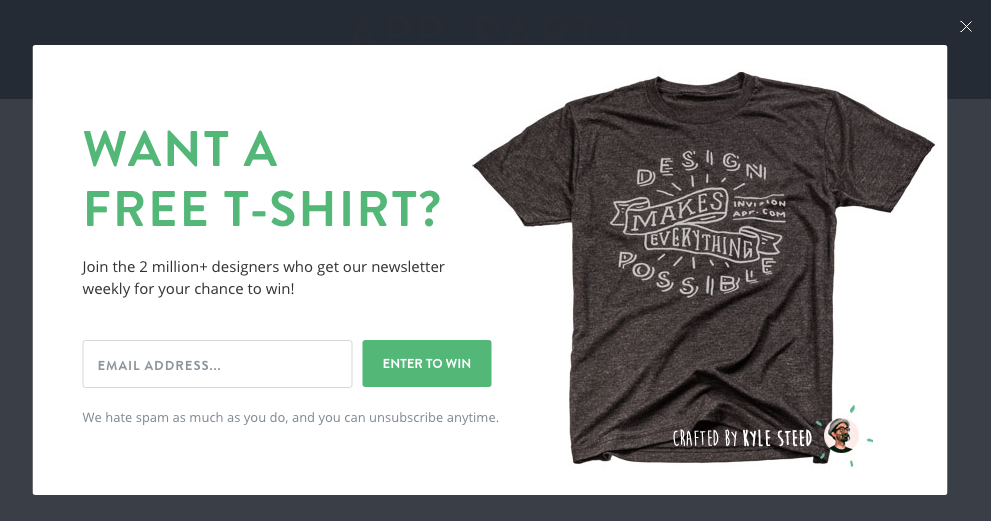 To learn more, check out "How to Generate Leads like these 75 Marketing Wizards."
74. Segment Upon Generation
The more fields you put in your lead generation forms, the lower your conversion will be. Of course it depends what your lead magnet it, but that's a legitimate rule-of-thumb.
So how do you get lead information from prospective users without creating a thousand-page industry report on everything ever said about Google Adwords?
You make the lead capture and segmentation part of the lead generation tool.
Here's an example from SmartBlogger, where a scroll popups prompts you to answer a little bit about yourself even before getting to a lead generation form:
Once you've chosen one of the three options, a relevant lead magnet appears as the clickthrough page – and the lead has been segmented based on their position in the blogging journey:
This is an awesome strategy, as any leads generated using it can be automatically segmented based on their answer and sent relevant content specific to their placement in the blogging journey, without having to fill in any extra fields at all.
To learn more, check out the Entry Popup at smartblogger.com
75. Use Emotion in your Headlines
People respond to emotion more than they do direct, aggressive call-to-actions. An empathetic company, who can talk specifically to a visitor's pain points, shows that they understand where they're coming from, and address those pain points.
Here's a graph from CoSchedule's which shows the difference in social shares for emotional headlines vs non-emotional.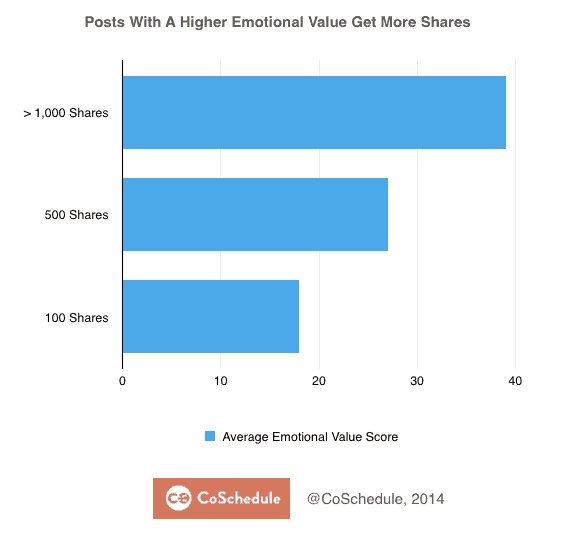 Emotionally-charged: Are you frustrated by wasted advertising budget when traffic doesn't convert?
VS
Non-Emotional: Get the guide to converting traffic into leads.
Emotionally-charged: Do you find it hard to maintain your Paleo diet during the holidays?
VS
Non-Emotional: Stop breaking your diet during the holidays
To learn more, check out "Proof That Emotional Headlines Get Shared More On Social Media" from CoSchedule. To check your headline's "emotional score," use The Emotional Marketing Value Headline Analyzer from the Advanced Marketing Institute.

Wishpond's 1000+ Lead Generation
Strategies, Ideas, Best Practices & Examples
Click below to download the most comprehensive collection of lead generation strategies and examples ever compiled. Completely free.